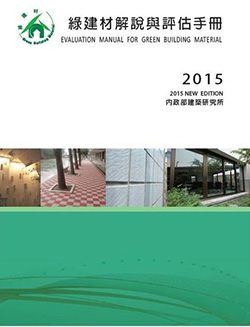 The members of TSSBE (iiSBE Taiwan), Dr. Chiang Che-ming started to lead the Green Building Material (GBM) Label project in 2004, and Dr. Tsay Yaw-shyan continuous the job of PA, Dr. Lin Fang-ming was the co-PA since 2014. This year (2015), the new version of manual of GBML was published, and Dr. Tsay and Dr. Lin are the chief editor.
The GBM Label of Taiwan promoted by ABRI (Architecture and Building Research Institute, Ministry of the Interior) was officially launched in 2004 to systematically and effectively evaluate the performance of GBM. The objective of the GBM Label is mainly to enhance the built environment and to provide the actual benefit toward the concept of human health and earth sustainability. The GBM of Taiwan is defined as an ecological, healthy, recycled, or high-performance building material that is capable of efficiently minimizing impacts to earth environment and damage to human health during its entire life cycle.
By the end of June 2008, 131 Labels had been conferred covering 1032 products, and the amount raised up to 1346 labels/ 9638 products until the end of July 2015. In addition, the regulation of at least 5% mandatory green building material utilization has also been involved into Taiwan's Building Code since 2006, and the regulation had risen up to 45% indoor and 10% outdoor since 2012.